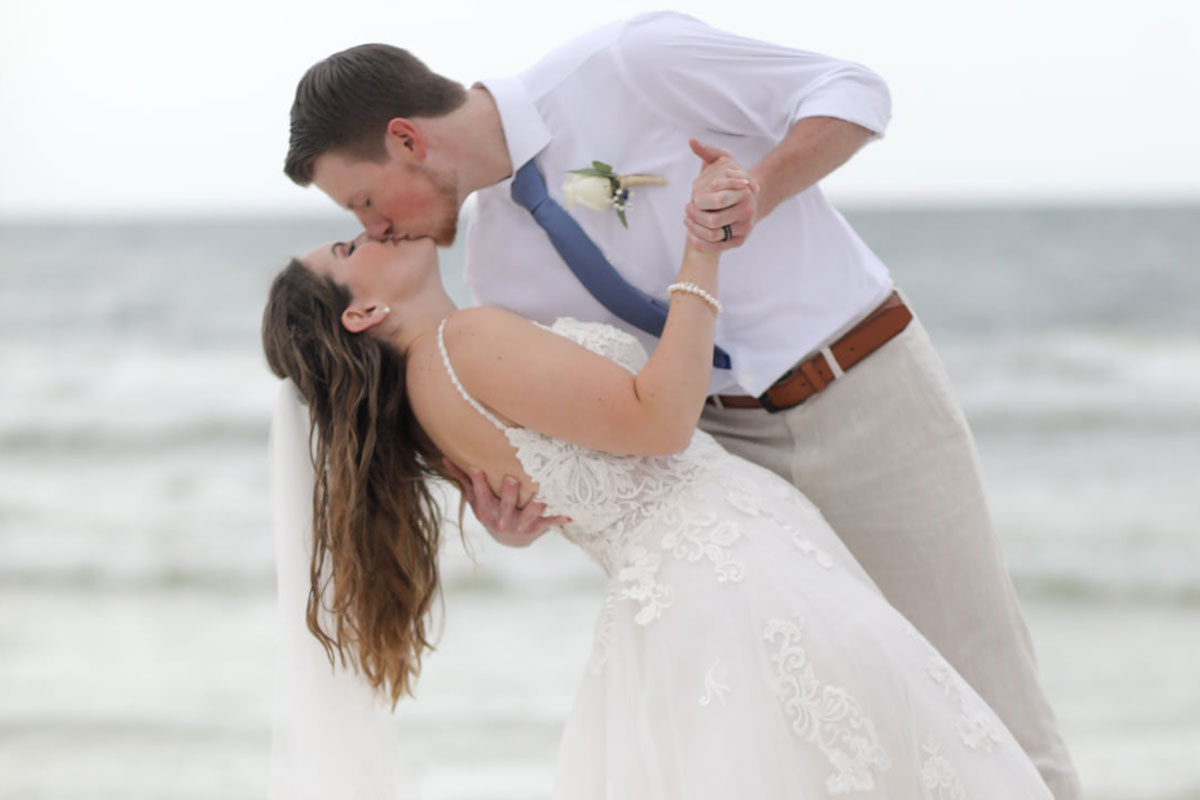 "I felt like the dress was made specifically for me."
When was your wedding date?
Our wedding was Tuesday, July 7, 2020.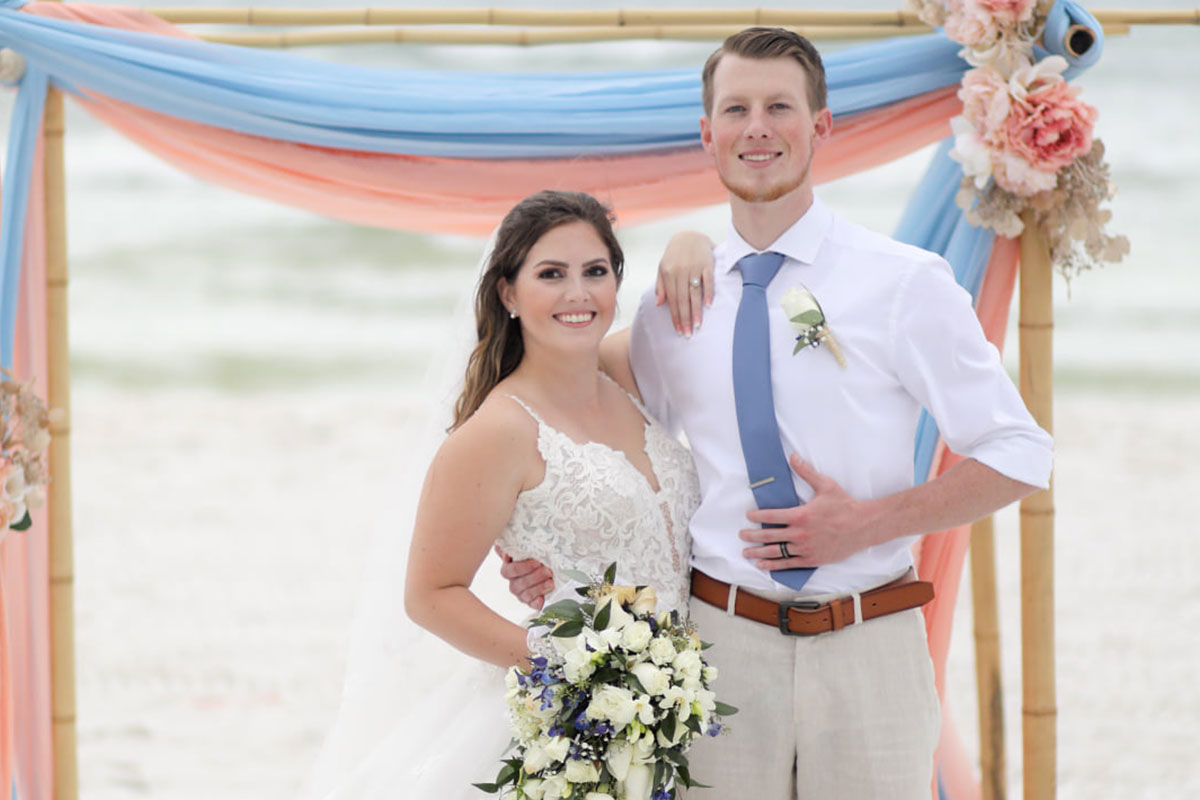 What was the name of your venue and why did you choose it?
We had our wedding on the beach at Wyndham Garden-Fort Walton Beach-Destin Hotel. We chose this location because the Destin-Fort Walton area is one of our favorite places to vacation, and we knew it would be so memorable to us!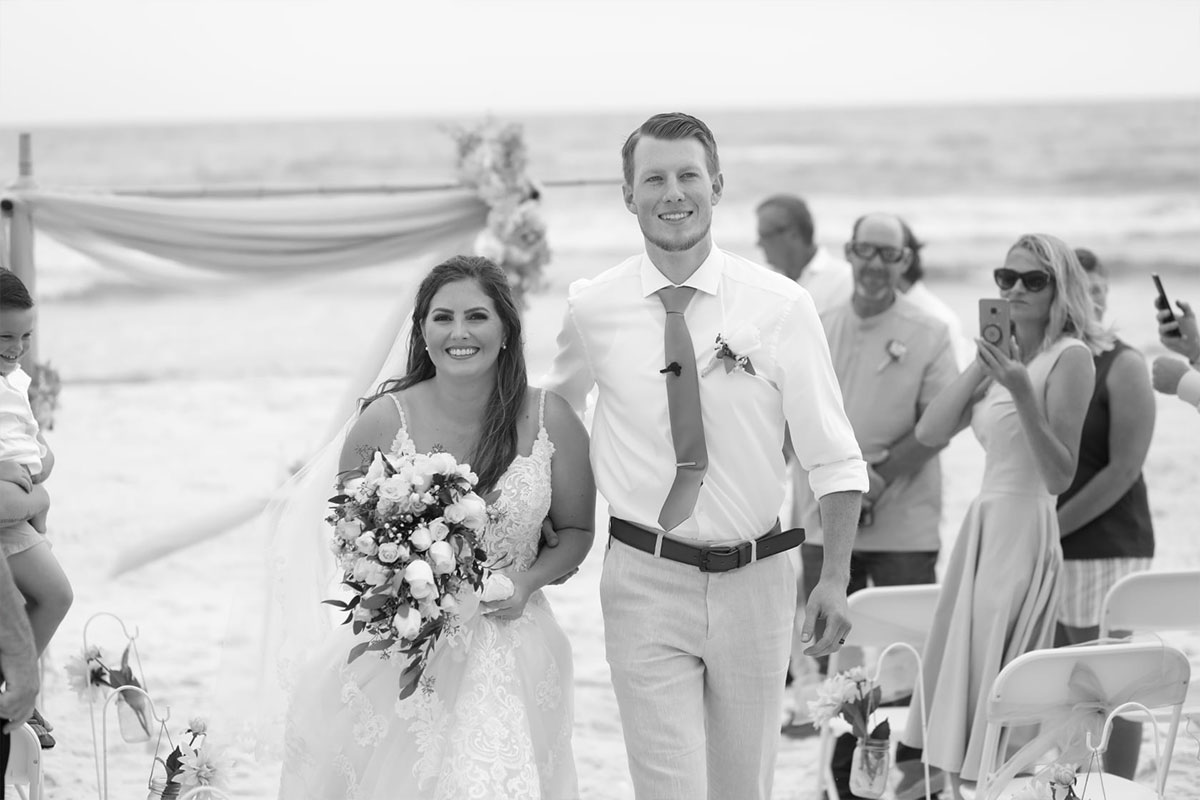 How long did it take to plan your big day? Any vendors you'd like to recognize?
We got engaged in November of 2019, and we started planning in February of 2020, so it took us about five months to plan right up to the day. It was a very easy and stress-free planning process for us because we had the help of Dale, Tiffany, and Debbie at Florida Weddings. All we had to do was choose our colors, style, and cake, and they did the rest! We also had our reception at the Wyndham Garden with the help of Nichole. We just needed to choose our menu options, and she handled everything else! Our vendors were so wonderful and made our day more special than we could ever have imagined!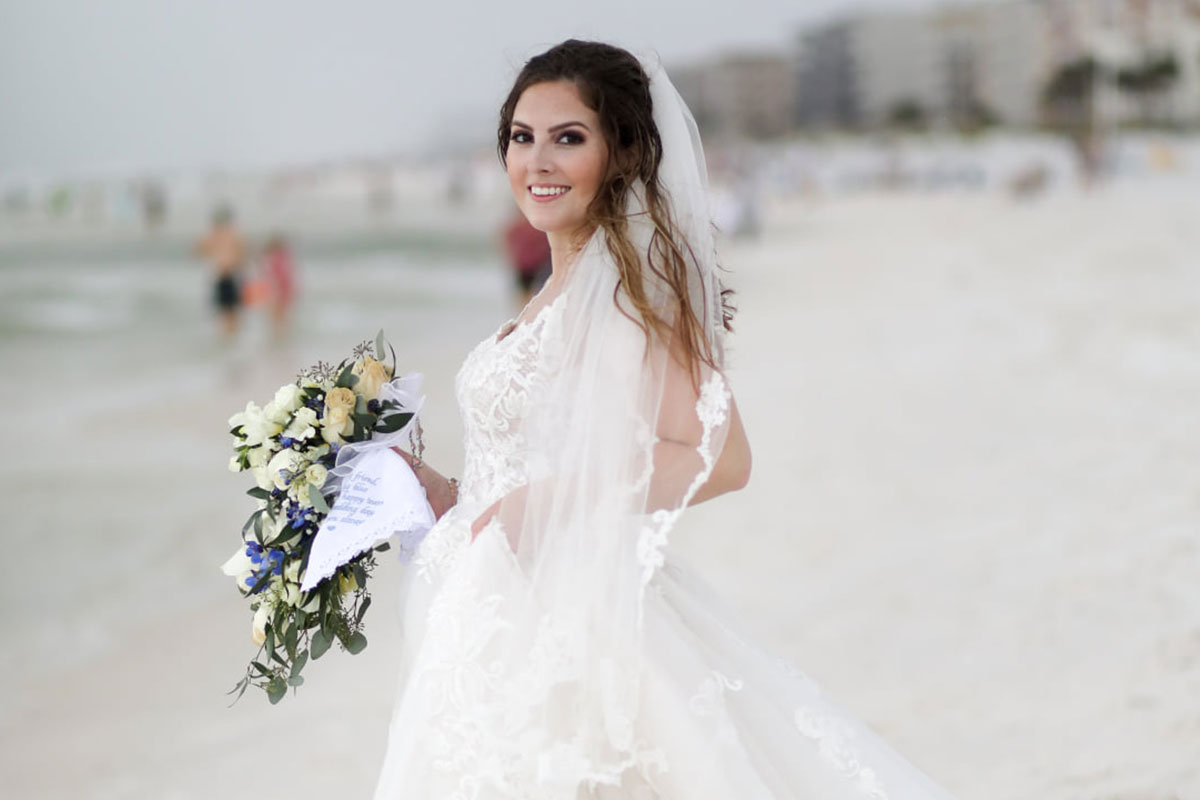 Who is the designer of your gown and where was it purchased?
The designer of my gown is Martin Thornburg, and it was purchased at Allure Bridal Boutique in Gainesville, Florida.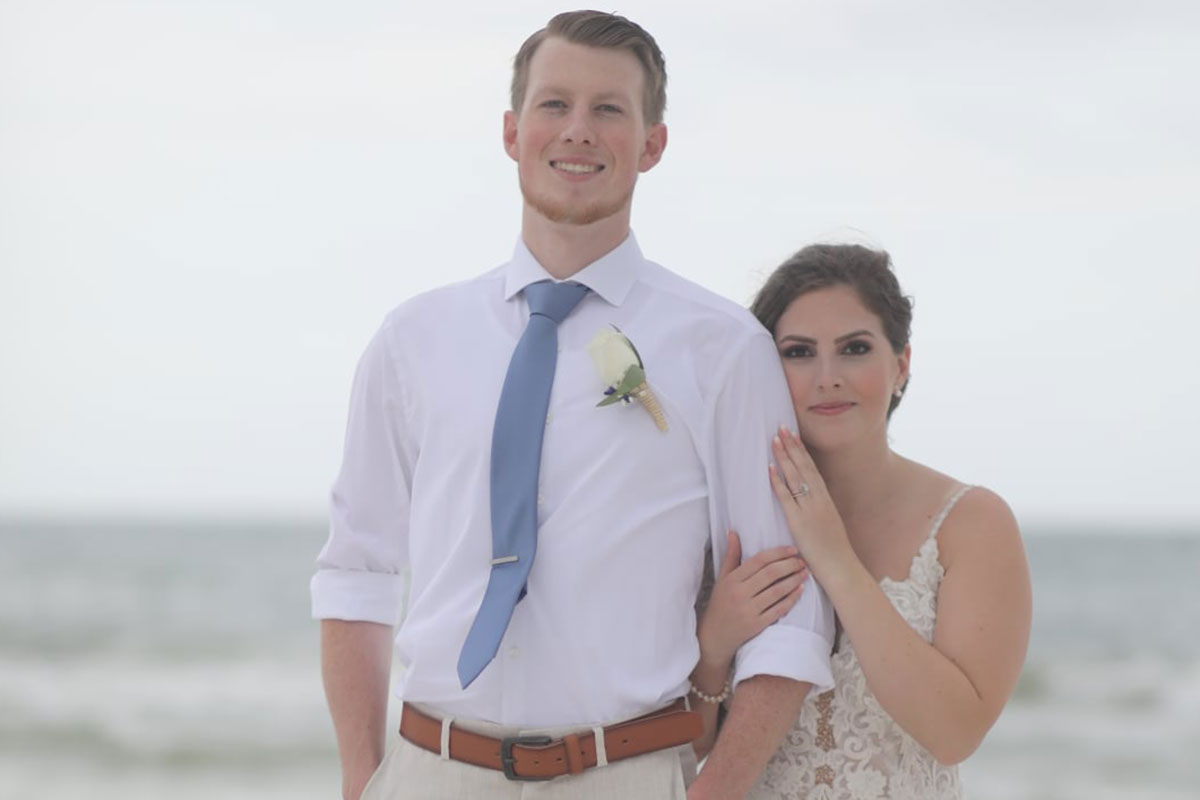 When did you know that your gown was "the one?"
There were a few moments that stood out to me when I knew I had found my gown. I had tried on eight dresses and when I tried on the very last gown, I felt like the dress was made specifically for me. I imagined how my husband might react when he saw me walking towards him, and I could not stop smiling! As I was walking out to show my mom and maid of honors, the "first dance" song my husband and I had chosen was playing overhead on the speakers: Can't Help Falling in Love by Elvis Presley. I thought it was a crazy coincidence, but not until after discovering that my stylist's name was the same as the dress, Daniela. After these occurrences, I knew I had found the one!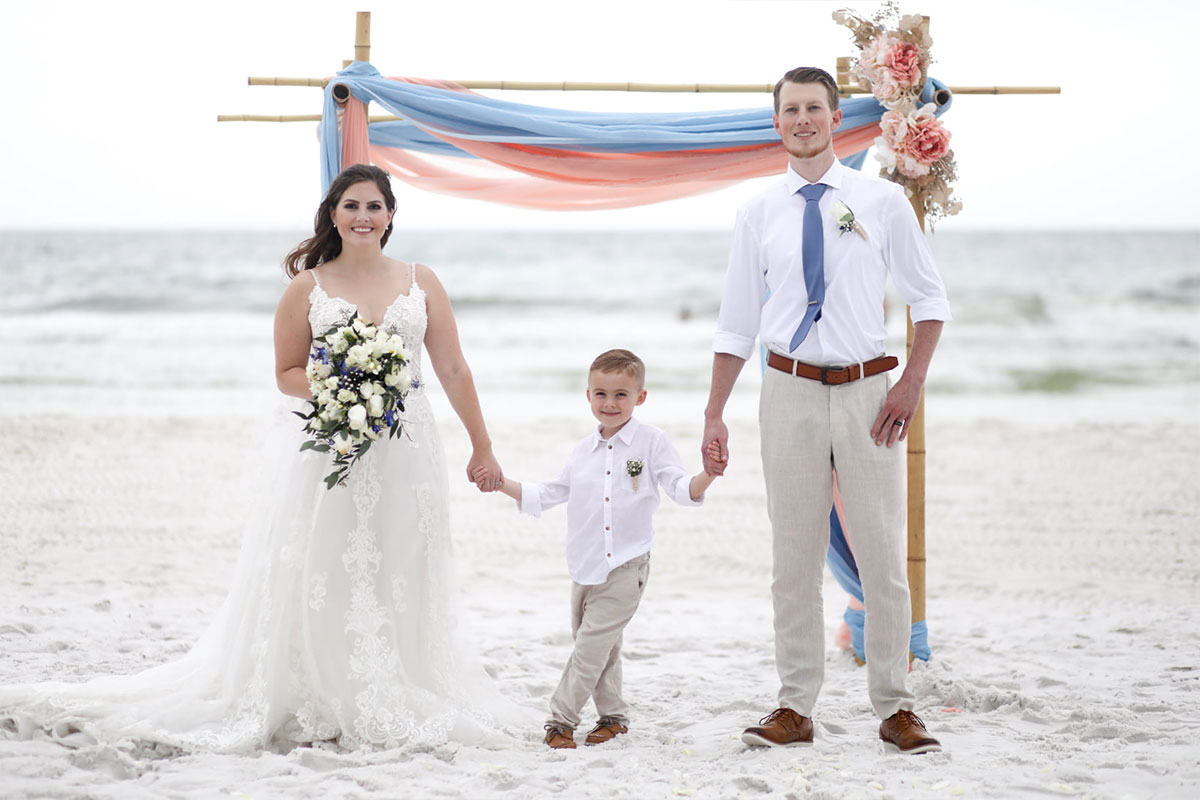 Why did you want to get your gown cleaned and preserved? Why did you choose Oceanside?
I wanted to get my gown cleaned and preserved because it is an important symbol from our wedding day that I can cherish forever. Every time I look at it now, I am reminded of one of the happiest days of my life! I chose Oceanside because, after speaking with Clare, I felt like I completely trusted them to handle my gown. Before the wedding, I had gotten it altered by Tooran, who did a fantastic job in such a short amount of time. Clare then spoke with me about cleaning and preserving my gown, and I already knew that I wanted Oceanside to take care of doing so. I had nothing short of an amazing experience, so I had the fullest trust in Oceanside.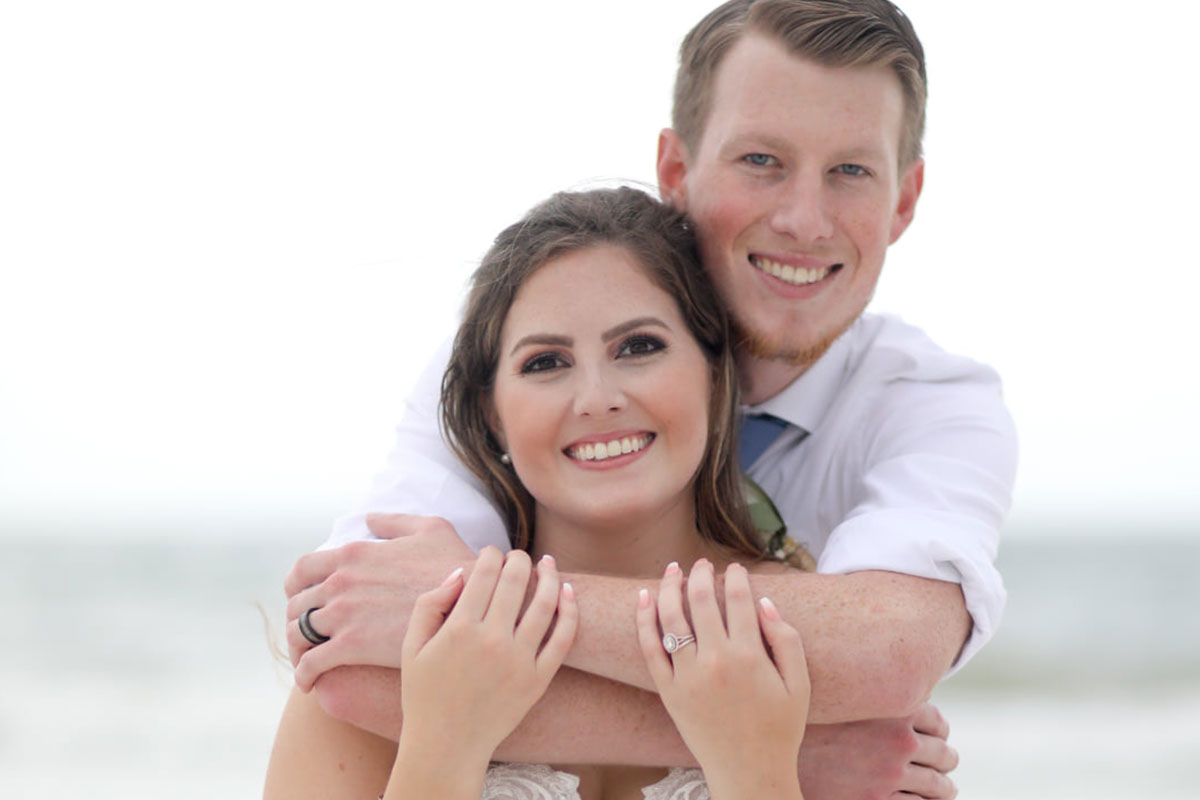 How did you and your husband meet?
In January of 2017, we met at a birthday party. Almost every weekend after, we would have a small family/friend game night. We spent as much time together as we could when college and work did not interfere since we lived almost two hours away from each other. After five months of talking and worthy traveling, we decided to make our relationship official!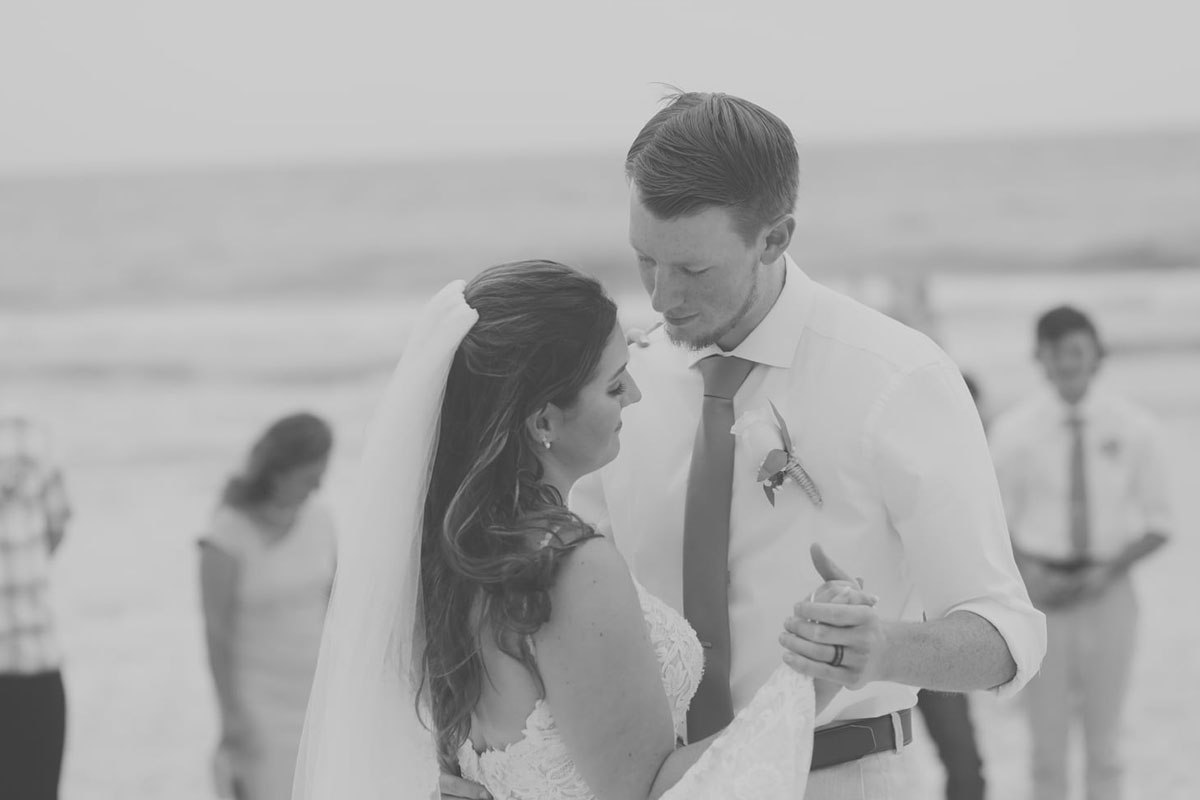 What is your favorite memory from your wedding day?
My favorite memory was walking in the sand towards my husband, Jeff. I was so nervous, especially with all our family watching, but I couldn't see anyone else as soon as I saw him. I felt like a million things were running through my mind that day, but at that moment, I could only think about how I was seconds away from marrying my best friend.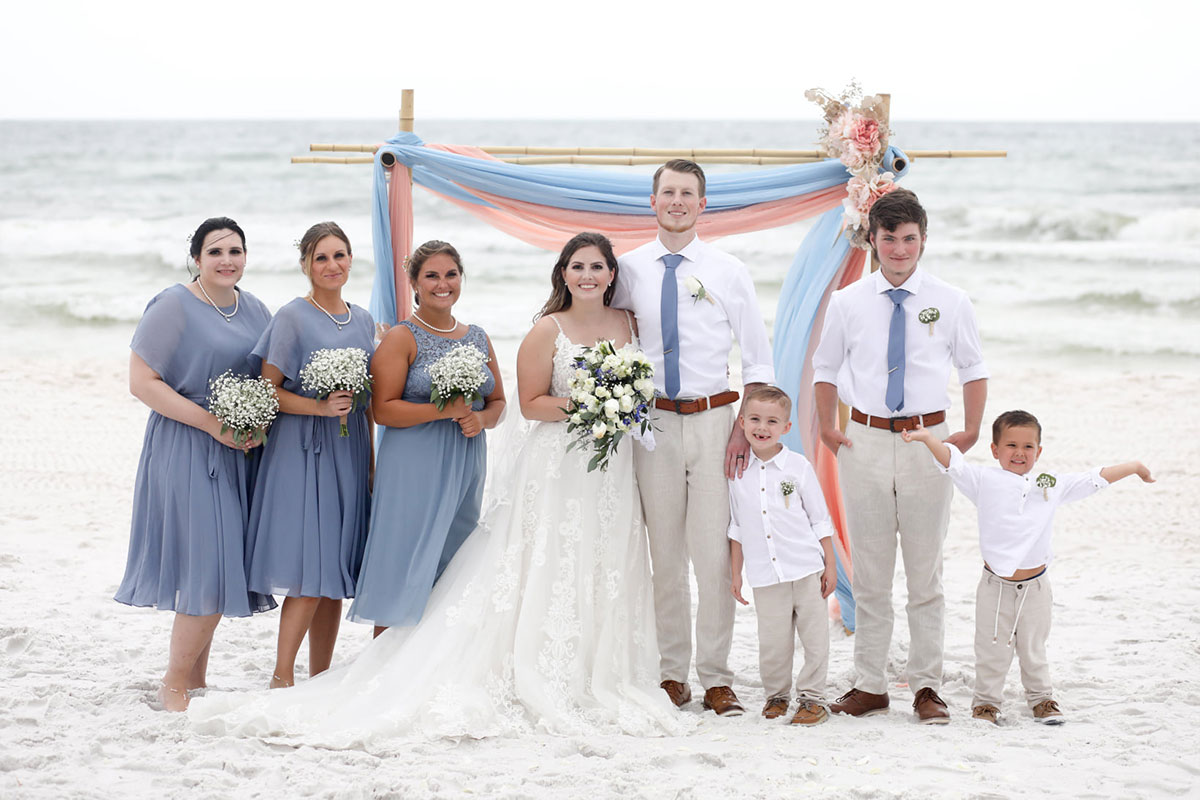 What made your wedding ceremony feel extra special?
Having our son as the best man and our closest family members with us to celebrate made our ceremony even more special. Being surrounded by such amazing people who love and support every part of us and our marriage was one of the best blessings we could have received.