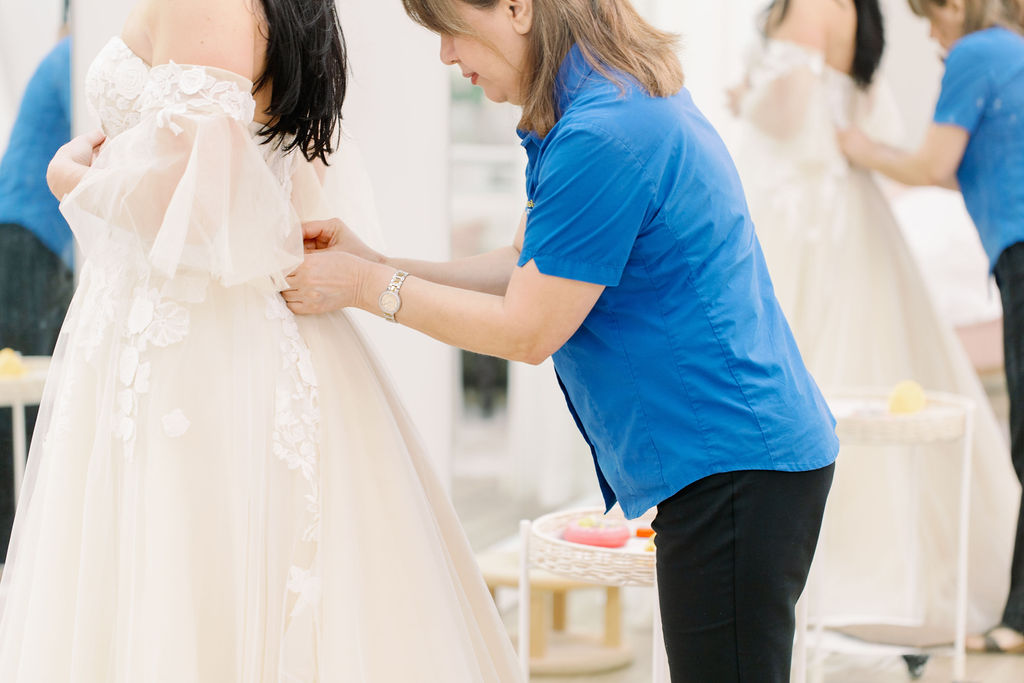 Following the recent New York Bridal Fashion Week, designers and wedding planners are beginning to offer a peek at 2023 bridal fashion and wedding event trends. If you're beginning to plan your 2023 wedding, here are seven key trends.
First, wedding gown trends:
1. Blue is in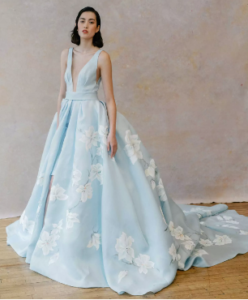 White gowns will forever be the number one choice of brides, but each year a new color becomes popular for less traditional brides. In recent years, these trend colors were beige and pink. In 2023, the trend color is blue, particularly soft shades of blue.
2. Colors accents galore
Color accents will remain popular, as they were in 2022, with some brides selecting floral prints or using color in accessories. But be discreet, wedding experts say. For a vibrant look, less is more.
3. Gloves are back
Inspired by period streaming shows, like Downton Abbey, gloves add a classy reference to the past and a layer of elegance. Fabric may be lace or traditional silk, with colored gloves offering a touch of color to a white gown.
4. Ruffles and Feathers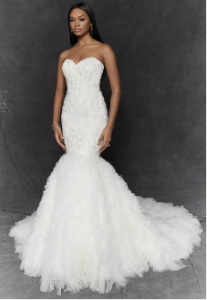 Brides are adding a softer look with ruffles and feathers in combination with starker lines. An example is a mermaid gown with a ruffled skirt, as shown in the photo. ­
Next, wedding event trends:
5. Personalized weddings
2023 will see changes that go beyond the bride's dress. One common prediction is called the "micro wedding." These are small weddings limited to family and close friends. Non-traditional venues will become more popular, as brides and grooms choose sites that reflect their values, such as a nature center. Eco-friendly touches will be a trend, too, such as invitations on recycled paper, re-use of bouquets as table decorations and serving health foods.
6. Local weddings
The glamor of destination weddings wore off during the pandemic and has given way to local and more personalized weddings in the bride's hometown. This way, family and friends can afford to attend. It's all part of a trend away from glamor and glitz and large-scale events that sometimes leave everyone exhausted and unconnected. The new focus is on who you are, not where you are.
7. Longer planning
The backlogs coming out of the pandemic apply to all things wedding. Wedding planners for 2023 events are cautioning brides to start early. Wedding dresses can take six to eight months to order, depending on the manufacturer. In addition, sites are booking a year in advance. Even photographers, musicians and florists want as much lead time as possible. Why the crunch? Competition is growing. Axios predicts 2.2 million weddings will occur in 2023, which would be a record.
And then there is the issue of picking the actual date
Along with these trends is the issue of the actual wedding date. While any date between May and October is common, many brides and grooms are consulting astrologists as to the best date to schedule their wedding. In 2023, astrologists say the luckiest wedding date is September 10, when the sun and new moon are in Libra, which promises less conflict during the marriage.
Start planning now!
No matter what your beliefs and influences, 2023 promises to be a hectic wedding year. It's best to begin planning as soon as possible and that includes planning for the details related to the bridal gown and other attire. Oceanside Cleaners specializes in wedding dress (and wedding party clothing) alterations, but we book up early so ask that you please plan in advance. Oceanside also cleans gowns before the ceremony (if needed) and afterwards and offers a popular wedding gown preservation service.