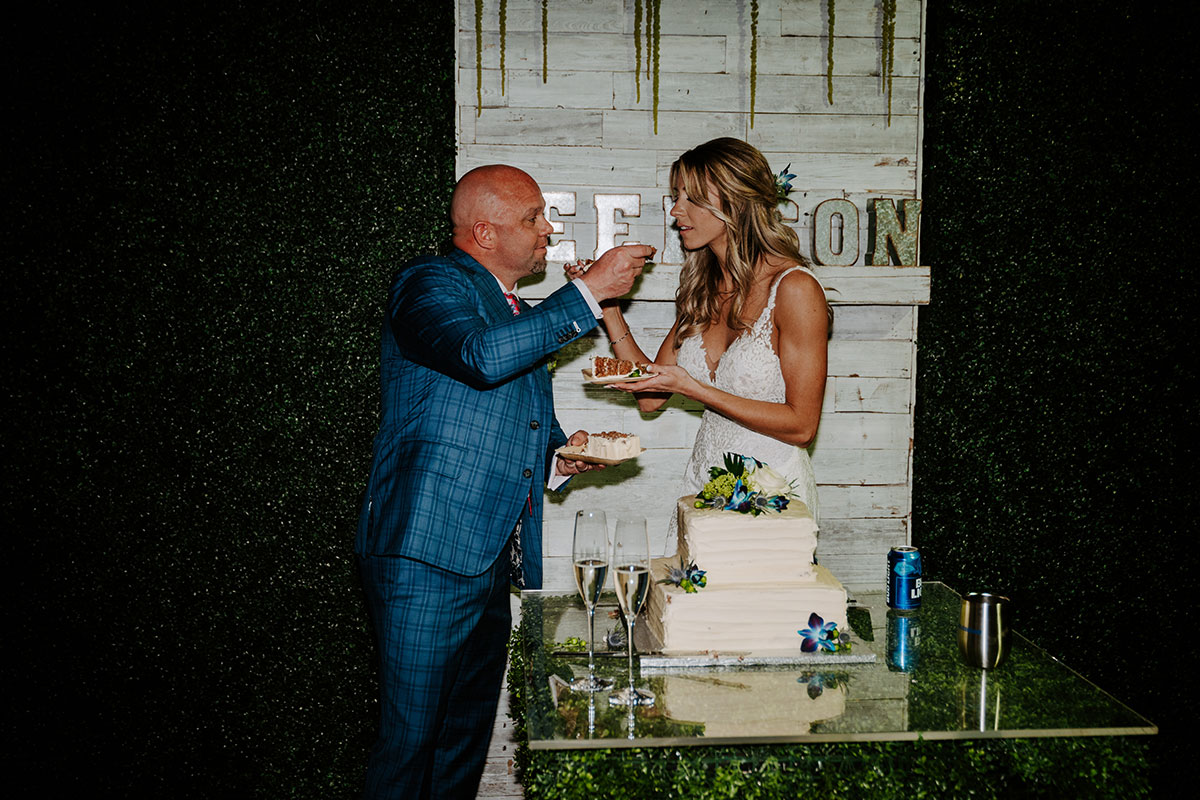 "As soon as I put it on, I knew right away it was the one!"
When was your wedding date?
We were married on February 22, 2020.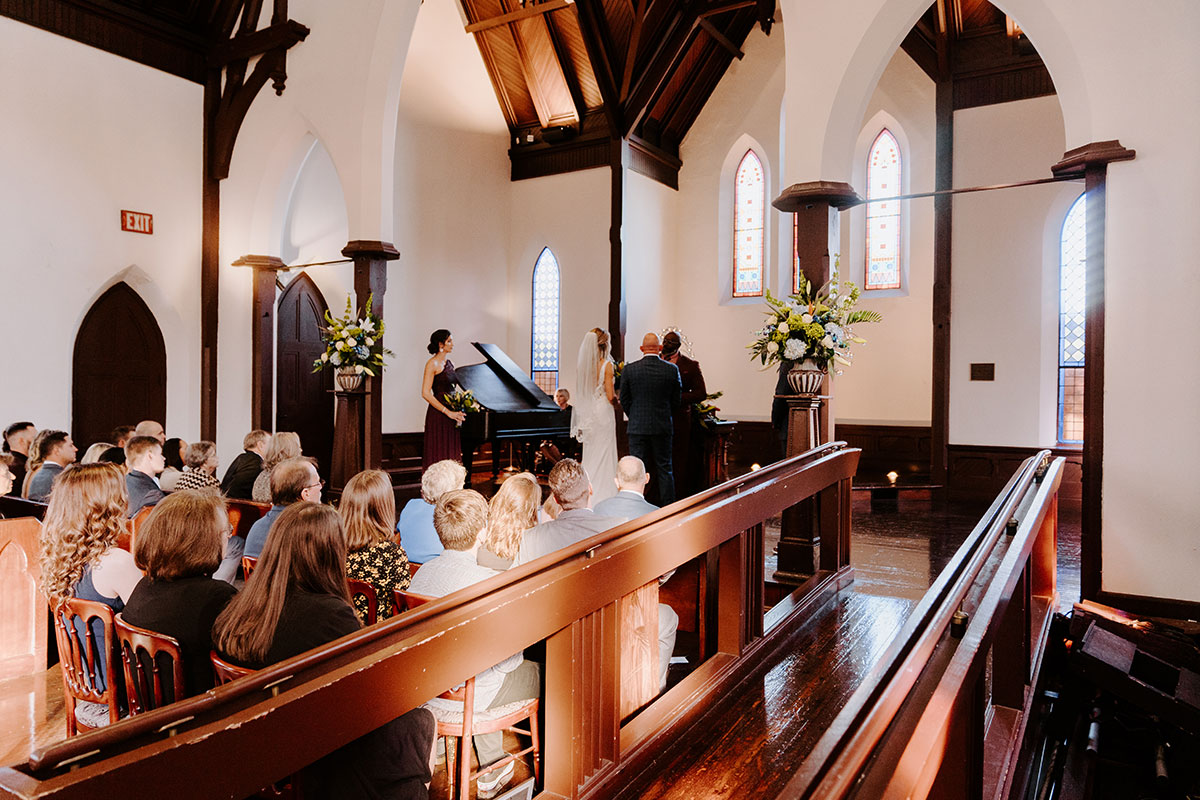 What was your wedding location and venue name?
We got married at Old St. Andrew's Event Venue across from the VyStar Veterans Memorial Arena, formerly Old St. Andrew's Episcopal Church. The Merrill house next door is historic with many antique pieces and is a great place for photos before or after the wedding. Our reception was at The Glass Factory, which was the perfect venue for Chris and me because it could truly reflect our style.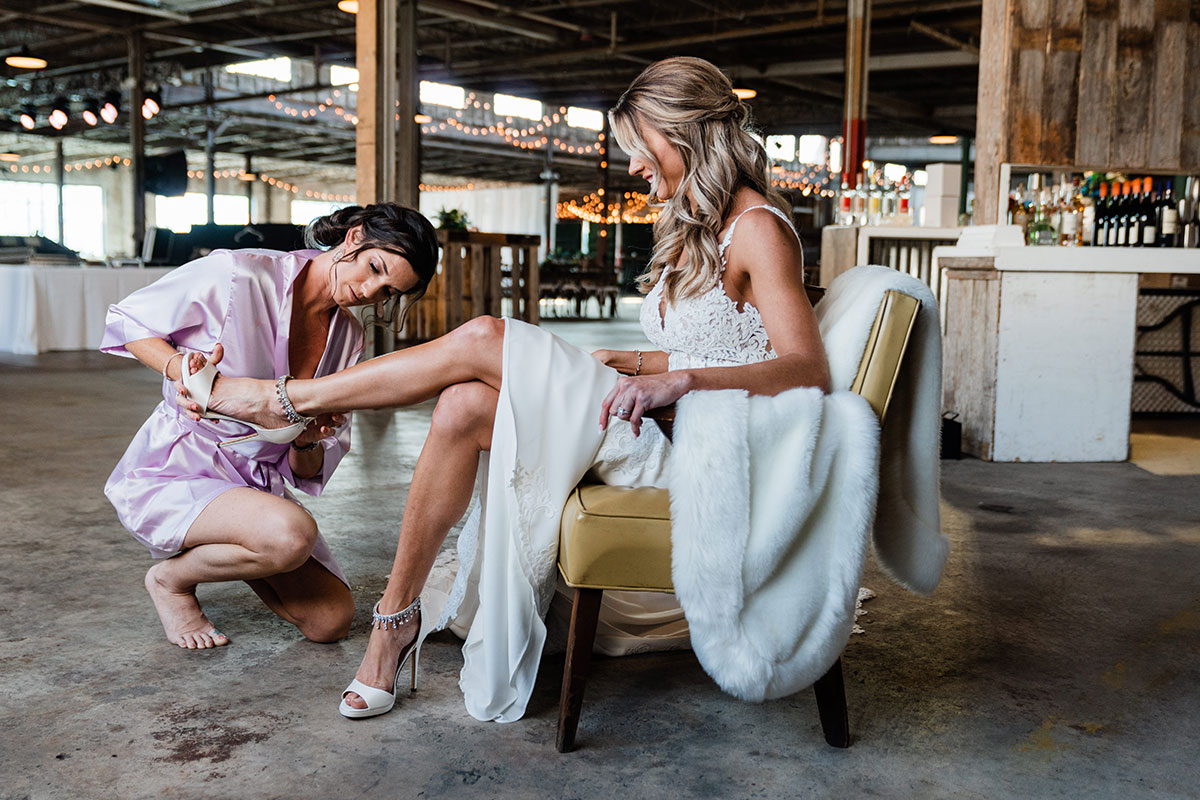 Who is the designer of your gown and where was it purchased?
Stella York was the designer of my wedding dress, I found it on a trip to New York with Chris.  My mother-in-law read a blog and told me to check out a bridal shop called RK Bridal when we were there. I was tempted to skip my scheduled appointment because we were there with two other couples. It was my first trip to New York City, and they were all going sightseeing that Saturday while I was headed to go try on wedding dresses. It felt so cliche. Fortunately, Chris convinced me I should keep my appointment and my long-time friend agreed to go with me. It was a fabulous experience because I found my dress, but that's not even the coolest part! The second dress I tried on is the one I ended up choosing. Once I picked it, they handed me a bouquet and had me walk to a hallway where they had two tv screens with live video feeds. One of the screens was showing the front of me as I "walked down the aisle" and the other view was of the back AND they had a fan blowing. Needless to say, I'm so glad I didn't cancel my appointment because I don't think I would have had that kind of experience anywhere other than RK Bridal in New York City!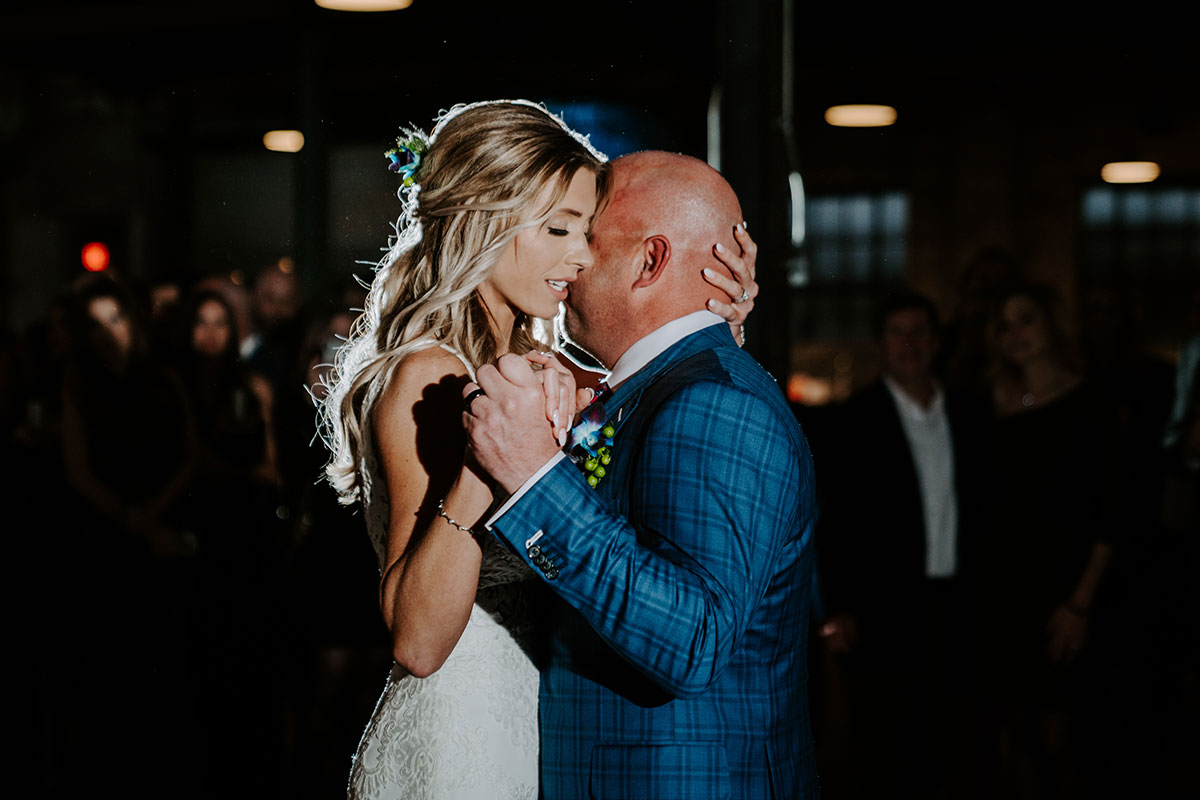 What is your favorite memory from your wedding day?
The entire day was something out of a dream, so it's incredibly hard to pick just one memory. It's true what everyone says: that the day goes by in the blink of an eye. My favorite memory isn't just one specific moment from that day, but rather the feeling of so much love, excitement and happiness—getting to marry the man of dreams. We had so many friends and family members who traveled from near and far to be there to celebrate Chris and I becoming one. That feeling is a memory I will cherish forever.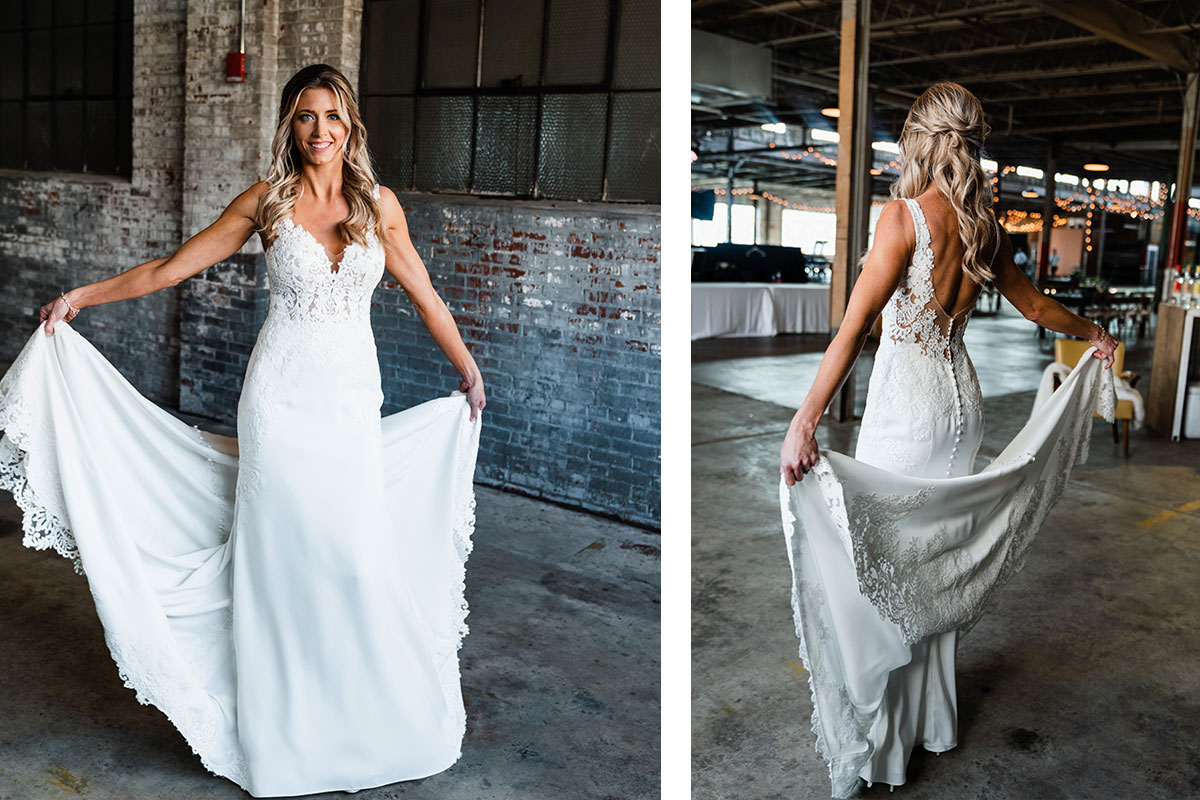 When did you know that your gown was "the one?"
As soon as I put it on, I knew right away it was the one! When I tried on other dresses afterwards, I couldn't stop thinking about how beautiful I felt in that one.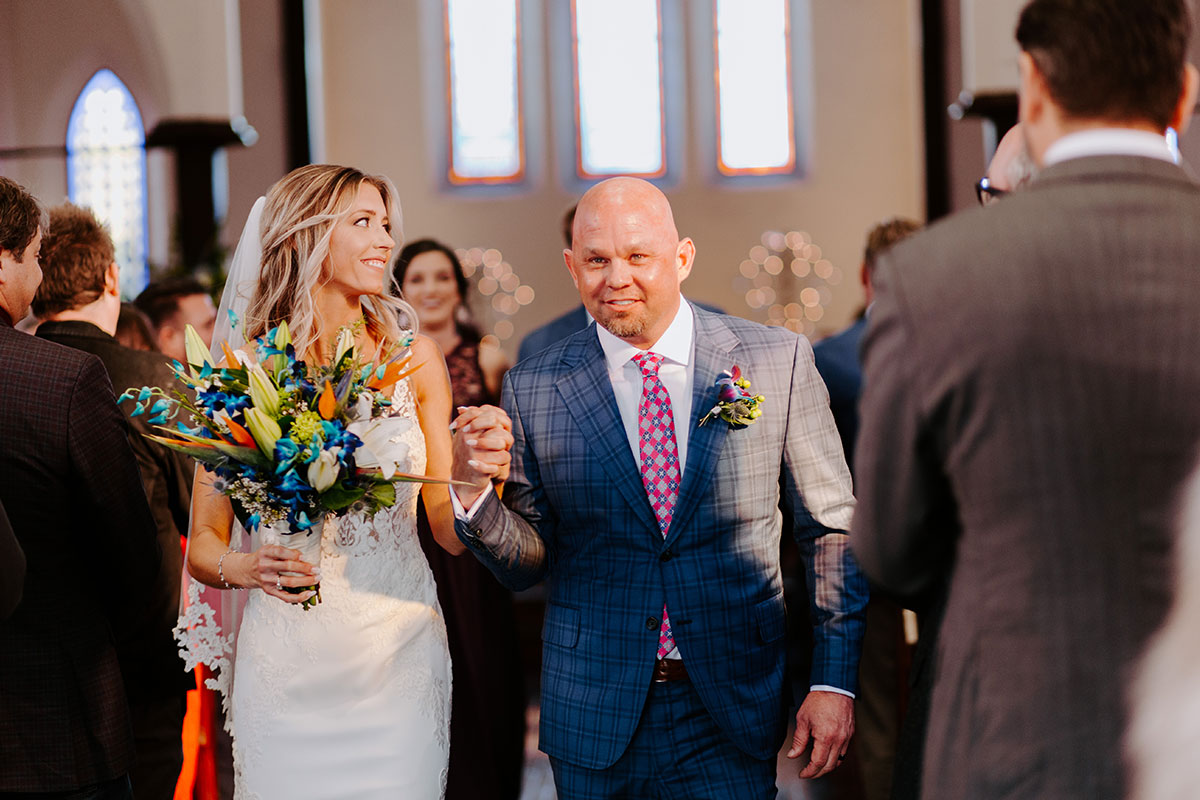 How did you and your husband meet?
Chris and I met in a bar back in May of 2014. I was out with some mutual friends and he had just come from a TPC fancy pants party and had on a Loudmouth golf matching jacket and pant suit. Throughout the night, his suit jacket was being passed around and I ended up wearing it standing next to him at the bar. My good friend Sarah snapped a picture of us standing next to each other. Chris and I went several years seeing each other in passing, but the timing was never right. Finally on his birthday in 2017, I made my move on him at a Colt Ford concert at Mavericks at Jacksonville Landing and we've been together ever since. The picture of us from the day we first met was hanging by our "guestbook" sign on our wedding day.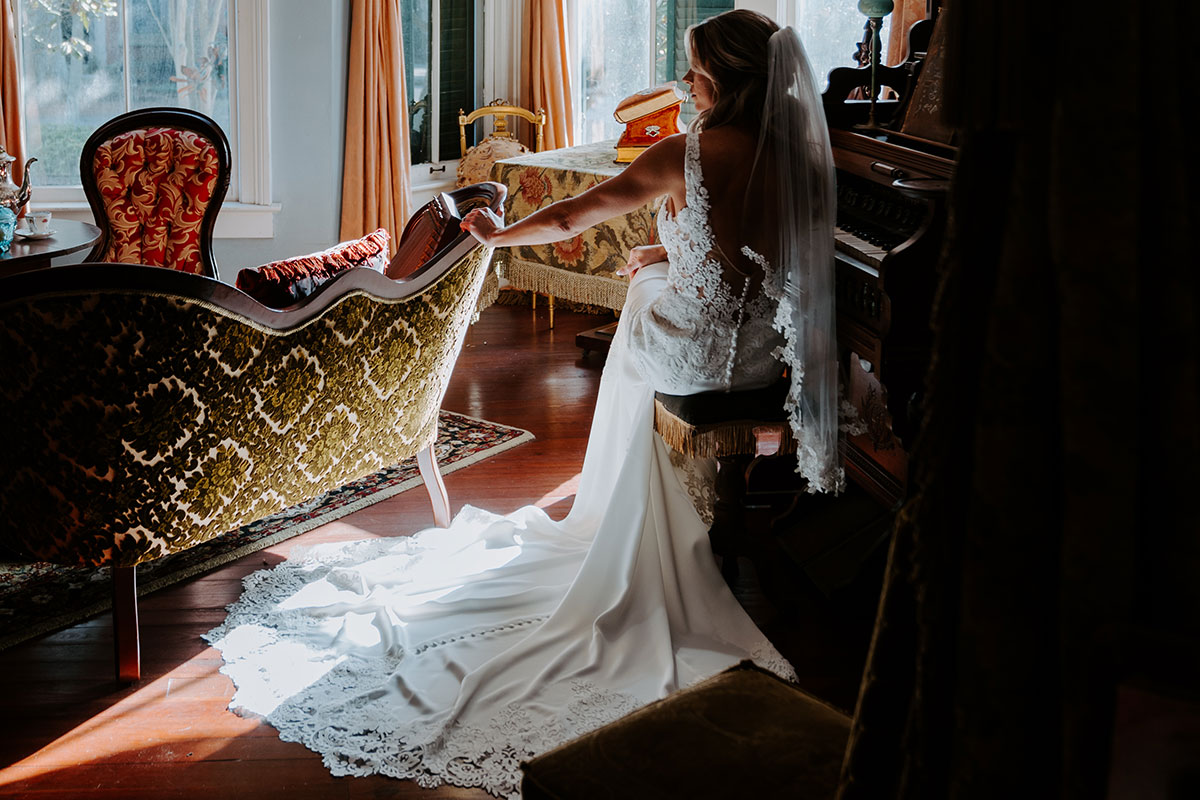 Why did you want to get your gown cleaned and preserved?
I actually had my wedding dress steamed prior to my wedding day, which is how Clare and I got connected. I had been through so much with my dress with the tulle material and where the buttons were sewn on, alterations needed and extra tulle material added for reinforcement. After going through so much to make sure my dress was going to last all day for our wedding, I didn't want to chance steaming it myself. In addition to managing the steaming, Clare caught a few spots that needed to be cleaned (I'm so glad she caught them because I had no idea). After I picked up my dress from Oceanside Cleaners, all I had to do was transport it to the venue, take it out of the garment bag and let it hang. My dress was perfectly steamed and I didn't have to worry about a single thing. It was 110% worth it!!! I do plan on having my dress cleaned and preserved!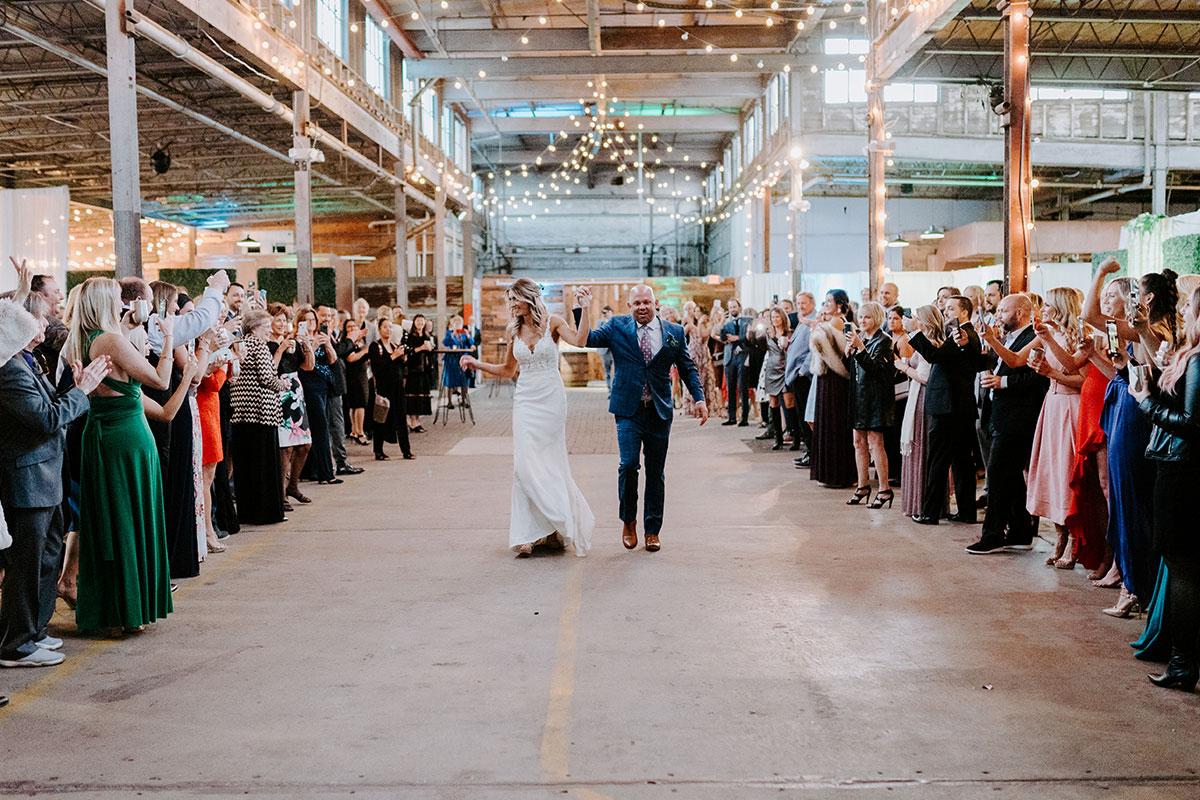 What made your wedding ceremony feel extra special?
I could go on forever answering this question because there were so many people who played a gigantic role in making our day the best day ever, including our parents, families, friends!! Nancy Seely, my mother-in-law, was with us every step of the way helping in any way she could! We had our incredibly talented friend Sarah Steeg from PRI coordinate the decor…WOW I cannot thank her enough…and Misty Beasley, our very close friend, did us a special favor by doing the florals and coordinating. I think the pictures speak for themselves, don't they? Our photographer, First of Apryl, was a dream to work with! My sister, best friend's "bride tribe," and Chris's best man were all by our sides. Love is all you need, and we are blessed to have so many people in our lives who we love and who love us!