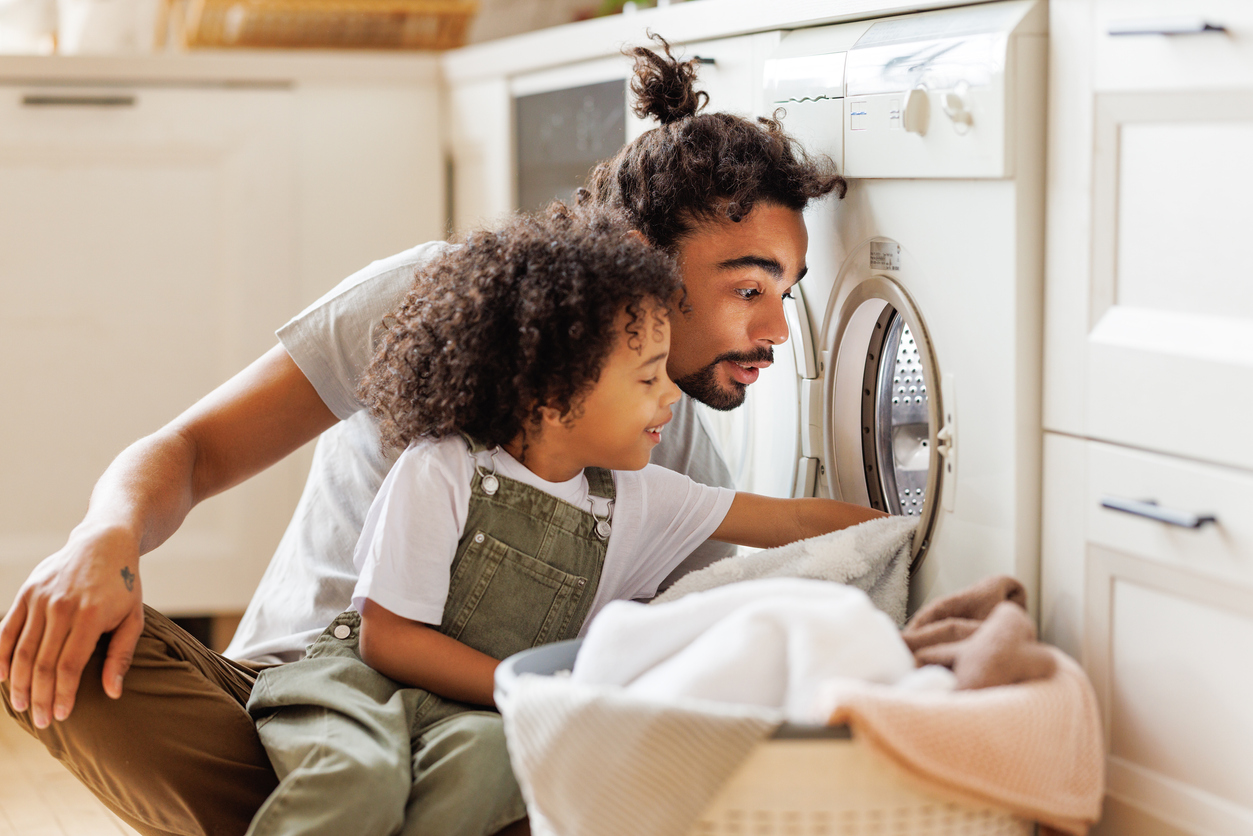 By now, you've probably seen influencers on Instagram or TikTok cleverly organizing their laundry rooms. With everything from labels to handy containers available on places like Amazon, it's fun to see how just dressing up supplies can make a laundry room more inviting. If a simple move from plastic jugs to nice jars helps make a laundry room more enjoyable, we're all for it!
Let's face it: laundry isn't a favorite task for most people. But being in the laundry business, many of us at Oceanside have found ways to make home laundry more enjoyable. Here are our five best tips.
Give yourself some elbow room.
Everywhere you look, reducing clutter is the trend (have you followed Marie Kondo?). Why not apply these ideas to an often-disorganized laundry room? Take advantage of readily available bins, wall hooks, rods, shelves, and portable counter tops. Adding these space savers to your laundry room helps to make smart use of every available spot. For example, try adding a folding station and narrow drying racks (which can be hung on a wall, too). You'll be surprised how giving yourself some breathing space helps make doing laundry more enjoyable.
Get into nice containers.
There's nothing wrong with pouring detergent out of the same plastic bottles you've used for years. But storing detergent in glass containers can add some novelty. While more attractive and higher quality, special containers also add a bit of a twist to your old routine. You can also make your own labels or buy them online to dress up the containers even more.
Tackle those stains.
It's very frustrating to wash your clothes only to find stains on them afterwards. To avoid the hassle of washing items again, check for stains before dropping an item into the washer and remove them by pretreatment. The American Cleaning Institute has an easy-to-use stain guide for everything from barbeque sauce to baby formula, using common household items like vinegar, bleach, rubbing alcohol, and over-the-counter stain removers.
Try safer products.
Most of us get in a rut and use the same laundry products month after month. The truth is, this space is constantly evolving and new products are often available. For example, the laundry detergent aisles now are full of "safe" products, usually with labels of "Safer Choice" or "Design for the Environment." Here's a list. The safest products are hypoallergenic, dye-free, phosphate-free, and fragrance-free.
Get outside if you can.
Sun-dried laundry has a fresh smell no pre-scented dryer fabric can ever capture. Living in Florida, we enjoy hanging clothes out to dry when we can. Not only that, but line drying puts less wear and tear on clothes, extending their life. Plus, line drying reduces use of the dryer and saves energy, and the sunlight naturally disinfects. Best of all, line drying is a great excuse to get us outside, into the fresh air.
Laundry still sound like a drag? We can be your backup
If these ideas to make laundry more fun don't cut it, or if you need a break, Oceanside Cleaners' "wash and fold" service can make tackling your laundry easy. That starts with complimentary pick up and delivery for any machine-washable garments, sheets and towels. Plus, rush service is available at no extra charge. Not only do we deep clean with Endex-99 (which reduces bacterial count by 99.9%), but everything is neatly folded. We also handle comforters, blankets, pillows, mattress pads and sleeping bags.